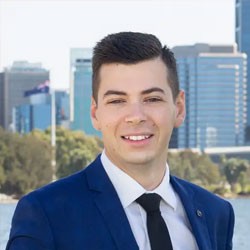 A country boy at heart, Matt Kalos started his real estate journey from humble beginnings, growing his clientele and reputation through his unwavering dedication and hard work.
As one of Ray White's fastest emerging agents, his passion for growth, relentless drive for results and creative approach to selling has made him the south of the river agent to trust.
Matt has been working in the industry for four years, building a strong network of industry professionals. Starting in the northern suburbs, Matt has worked hard to build his professional reputation achieving impressive contracts with large multi-national property developers whilst keeping true to his roots, selling homes to families and first home buyers.
Vast experience and the capability to adapt his selling style to suit the property on the market, Matt and his team are the key to selling prestigious homes in Perth.